New Sonoma County Flower Market opens at Barlow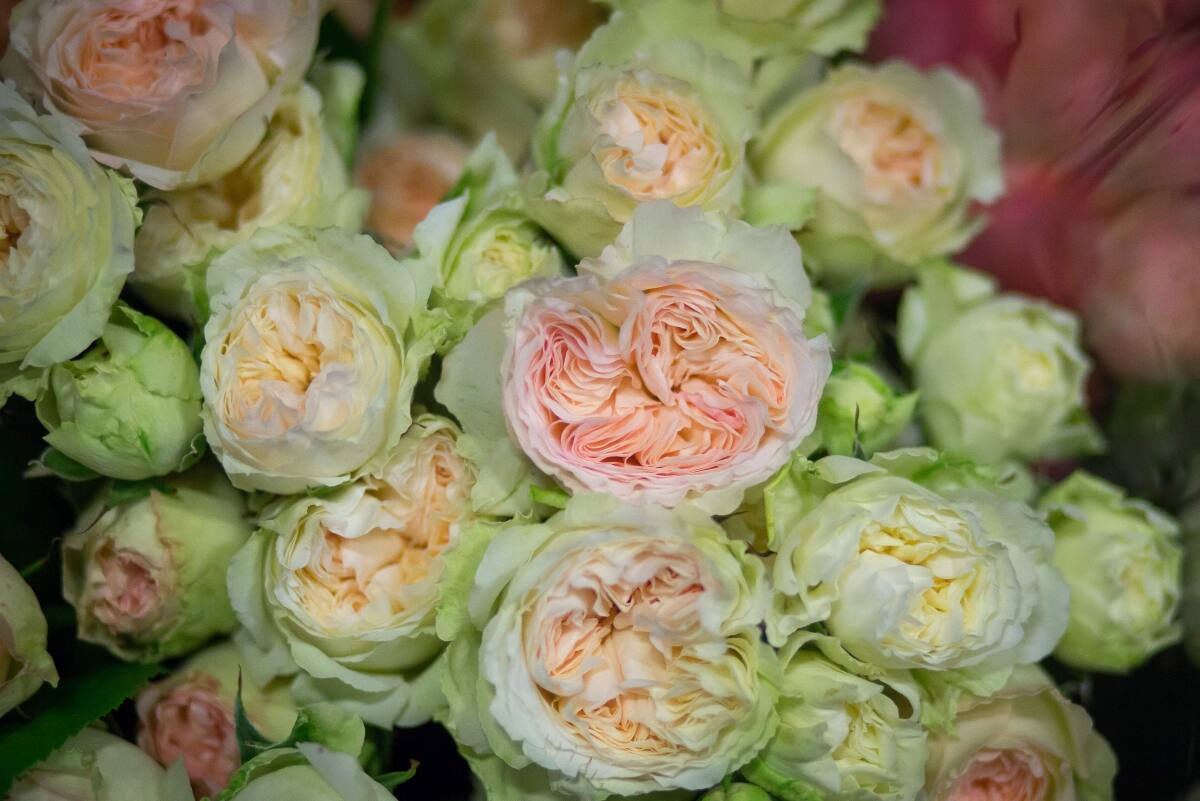 On a Wednesday morning in early May, Kellan MacKay gets up at 5 a.m., an hour before sunrise. She admits that she is not a morning person. But her love of flowers is great enough to overcome her biological inclination to sleep late. And it's an important day.
It's the seasonal opening of the new Sonoma Flower Mart, a market for a small, growing niche of Sonoma County farmers who grow flowers as a specialty crop.
"I grabbed the crate and got in the van with my coffee and came over here," said the 32-year-old producer, who is part of the Oak Hill Farm crew in Glen Ellen,
She is one of a small group of farmers, mostly young women in their thirties, who by 7 a.m. had unloaded their trucks and filled a warehouse behind Taylor Maid Cafe at Barlow in Sebastopol with buckets of peonies, roses, blueberries, foxgloves, sweet peas and columbine. Customers filter in early, a select group of floral designers, wedding and event planners and others for whom fresh flowers are an essential stock in trade.
The Mart was started by Nichole Skalski and Kathrin Green of The California Sister, a floral design and supply store located in Barlow Market, Sebastopol's agro-hip neighborhood.
Skalski kicked off the market in a modest way in 2013 when she launched her floral design business. Last year, she partnered with Green to open a retail store and began buying flowers directly from farmers and reselling them from the back of the store.
But this year, they're experimenting with a true farmer's market model, where farmers set up stalls themselves and sell directly to buyers. Most of their customers work in the professional floral or event business in one way or another and buy at wholesale prices. But the general public can also come and buy farm-fresh flowers grown near them at a slightly higher retail price.
Market days are Wednesdays and Thursdays from 7 a.m. to 1 p.m. and will continue through December, with farmers changing their wares almost weekly depending on what's in bloom.
This is not where you will find your common supermarket grapples.
"We will also have flowers from the market, like zinnias, sunflowers and cosmos. But these are more upmarket specialty cut flowers like peonies, clematis and foxglove. Things that last less and cost more. Everything is super fresh," said Hedda Brorstrom, who grows an acre of fresh flowers in Graton called Full Bloom Farm.
Collect flowers
Looking fresh as a milkmaid in short overalls, Brorstrom was up at 5 a.m. harvesting mock orange for Santa Rosa designer Jaclyn Nesbitt, who was among the early buyers with her baby, Penelope, in a doorway. – baby on the front.
"The first year I moved here, I drove to each farm individually to pick flowers. Seeing what they had on the farm is really important, and it's powerful to make that connection between the product you're designing and where it came from, and the people who go to such lengths to grow it. But I would also go to the Flower Mart in San Francisco. That's a lot of time spent in the car. This is a huge win for us," Nesbitt said of the new market.
Olivia Rivas, owner of Papillon Floral in Rohnert Park, who was happily shopping for Mother's Day and a wedding this weekend, also bought the flowers on opening day earlier this month.
"It's a dream of Nichole and mine, really, and every floral designer in the county – to come to a central location and order fresh produce," she said, her eyes zeroing in on a bucket of dark pink peonies she imagined. would be open just in time for Mother's Day. "Here you get to know the producers and you have relationships with them. I also have relationships with vendors in San Francisco, but this is special because I know each of these women and have seen their farms personally. It's just wonderful to be able to find each other and support each other.
Skalski thought a flower market was natural for Sonoma County, where there are so many growers now specializing in flowers, both in the field and in the greenhouse. At the same time, there is a huge demand for fresh flowers in the wine country, the location of so many weddings and special events.
Bringing farmers and buyers together in a central location, she said, made sense.
Floral designers and event planners traditionally had to travel to farms to buy directly or make the long, pre-dawn drive to the San Francisco Flower Market in the South Market area.
"They were going to San Francisco for flowers as people grow phenomenal flowers all over the county," Green said.