The Best Luxury Flower Delivery Services for 2022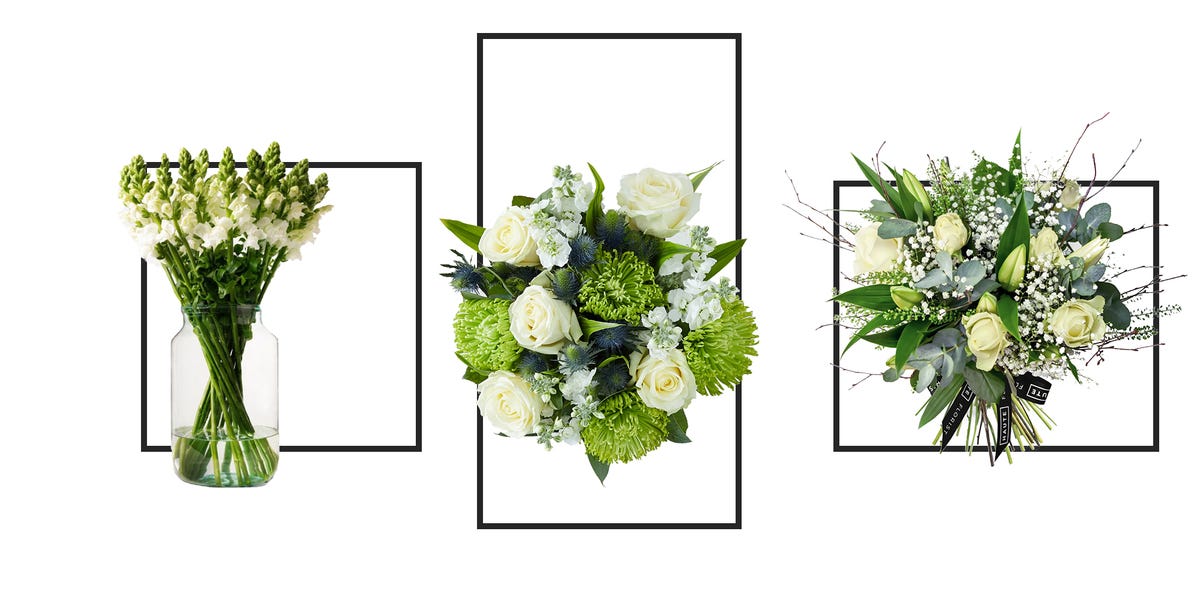 Whatever the occasion, sending flowers to friends and family is a timeless way to show your love.
Below, we've put together a list of the best online flower delivery services that will bring joy to someone's day. Whether it's for a special occasion or a 'just because' gift, these luxury florists will deliver a beautiful bouquet safely and on time.
Flower trends you need to know now
Before choosing your bouquet, consider the latest trends in floristry:
mailbox flowers
As the name suggests, these flowers will make it through your mailbox, making them a smart choice if your recipient isn't home to receive them.
Most arrive as buds, which means they'll enjoy watching them bloom – and they'll likely last longer than a traditional hand-tied bouquet.
Monovarietal bouquets
No longer the preserve of Valentine's Day roses, monovarietal bouquets make a sophisticated statement.
Showcasing the best of a species, a single stem bouquet is an easy way to enjoy seasonal flora, from peonies in late spring to hydrangeas in summer. FlowerBx excels here (not surprising when you learn that the brand was founded by Tom Ford alumni Whitney Bromberg Hawkings).
dried flowers
If you want to give a gift that will truly last, dried flowers offer a great alternative to their fresh counterpart. Many of today's best flower delivery services now offer them, including our favorite, Bloom & Wild, which offers everything from colorful arrangements to sleek pampas grass.
Flower subscriptions
A flower subscription allows you to schedule regular deliveries to your home or your loved one. Simply select how often you want them delivered and in some cases also the bouquet style.
How to take care of your flowers
There are a few simple steps you can take to ensure your flowers thrive for as long as possible. First, check the care instructions that come with your delivery – roses, for example, often arrive with outer protective petals, which are left in place to prevent bruising in transit. By removing them, your flowers will really shine.
Then, before placing them in water, trim the stems an inch or two, cutting diagonally so they can absorb more water. Also remove any leaves below the waterline and remember to refresh the water every other day, trimming the stems an extra inch when doing this.
Finally, think about where you display your flowers – placing them away from radiators and direct light will prevent delicate blooms from drying out early.
How we test flower delivery services
We sent bouquets from 20 different online florists to 190 readers. Each tester gave their opinion on when the flowers arrived, how they were packaged and the "wow factor" of the overall bouquet. We also ordered a bouquet from each brand, evaluating the website and ordering process.
Here, see our selection of the group:
The best flower delivery services
best flower delivery service
Flowering & Wild
With whimsical arrangements and an intuitive ordering experience, Bloom & Wild makes it easy to buy and receive bouquets. Ours also arrived safe and sound and remained in good condition for three weeks.
Note that seasonality means next day delivery isn't always possible, but given the quality of the flowers, planning ahead is a trade-off worth making. You can also add extra goodies to your delivery, from Cowshed hand cream to Prestat chocolates.
Key specs
Our choice : The Blake
Price scale: £25 – £95
Mailbox options: Yes
Dried flowers: Yes
Flower subscriptions: Yes
Delivery options: Free Royal Mail tracked or Premium DPD delivery on selected days, time slots and Sundays.
The best monovarietal bouquets
FlowerBx
For the unparalleled satisfaction that a vase overflowing with mimosa or overflowing with Italian buttercups can bring, turn to FlowerBx.
Its monospecific bouquets arrive fresh from the growers and are impressed by their numerous and long stems. In fact, the carnations we received were the longest lasting bouquet we've ordered, blooming for almost a month.
Key specs
We've tested : Lip locked eyelet
Price scale: £40 – £170
Mailbox options: Yes
Dried flowers: Yes
Flower subscriptions: Yes
Delivery options: Free standard delivery, next day and same day delivery available in London. National delivery only available from Tuesday to Sunday.
Ideal for ethical flowers
arena flowers
While flowers aren't always the most sustainable gift, there are ways to buy them more ethically. Arena offers eye-catching bouquets from Fairtrade-certified farms or suppliers, and for every order, two trees are planted through a partnership with Eden Reforestation Projects. The packaging is also free of single-use plastic.
Our testers loved their bouquets and said they stayed fresh for up to 12 days. Check your destination before ordering, as some delivery restrictions are in place for special occasions.
Key specs
We've tested: Cookies and cream
Price scale: £25 – £150
Mailbox options: Yes
Dried flowers: Nope
Flower subscriptions: Yes
Delivery options: Nationwide, Monday to Saturday.
Ideal for supporting local florists
Bloom
Floom features independent florists who can champion their businesses and share their unique designs through its website. The handcrafted bouquets are also hand-delivered and, according to our testers, looked even better at home than online.
They lasted between seven and 16 days, but its hyper-local setup means not every bouquet you see online can be delivered to your loved one. First enter your zip code and search by flower species, occasion, color or delivery date.
Key specs
Our choice : Clouds
Price scale: £30 – £500
Mailbox options: Nope
Dried flowers: Nope
Flower subscriptions: Nope
Delivery options: Seven days a week, delivery by the florist.
Ideal for sending internationally
Interflora
Interflora's worldwide network of florists makes it possible to bridge any distance with flowers.
It's not possible to see exactly what will arrive at your recipient's door, but we have been impressed with the locally made bouquets we have received, with each saying they would recommend the service to others.
In particular, the spelling mistakes of our gift messages have been corrected thanks to their handwriting.
Key specs
We've tested: Hand-tied bouquet composed of the most beautiful flowers
Price scale: £35 – £450
Mailbox options: Nope
Dried flowers: Nope
Flower subscriptions: Nope
Delivery options: The next day and the same day, Monday to Saturday.
Ideal for range of delivery options
flower station
In London, Flower Station caters to last minute orders by offering a same day delivery service, and you can also contact them 24 hours a day. If you're sending flowers further afield, they deliver Tuesday through Saturday, and the customer service team will help you with international delivery as well.
Our voluminous arrangements were among the highest rated flowers in testing, with all testers saying they would use this service again.
Key specs
We've tested: Sunshine Pink Blend
Price scale: £32.99 – £110
Mailbox options: Nope
Dried flowers: Yes
Flower subscriptions: Nope
Delivery options: Nationwide tracked delivery, same day delivery in London.
Ideal for symmetrical bouquets
Appleyard London
Appleyard's elegant selection of abundant flowers and foliage brought our testers 17 days of joy, with most noting the pleasing symmetry of their arrangement. The flowers also arrived well packaged, with detailed care instructions.
Note that there are some postcode restrictions in place around key donation dates, so check this before sending.
Key specs
We've tested: Lunar
Price scale: £21.99 – £234.99
Mailbox options: Yes
Dried flowers: Nope
Flower subscriptions: Yes
Delivery options: Same day delivery in London, next day delivery nationwide.
Ideal for secure packaging
high florist
Given the orchid's reputation for delicate beauty, it's understandable to have qualms about ordering them online.
That's why we were impressed with the way ours were packaged by Haute. Each was enclosed in a plastic pouch and had its own water supply, arriving just as sumptuous as they appeared online.
The longevity of the bouquet varied, however – some bloomed for up to 14 days, while others had to be pruned after just five.
Key specs
We've tested : Venice
Price scale: £25 – £165
Mailbox options: Yes
Dried flowers: Yes
Flower subscriptions: Yes
Delivery options: The next day, free; Sunday tracking, £2.99.
Best Supermarket Flower Service
Waitrose Florist
A supermarket might not be the first place you'd turn to for luxury flowers, but Waitrose impressed with their high-quality seasonal arrangements.
Available for delivery seven days a week, it's a smart choice for Sunday birthdays or Mother's Day, if you want your flowers to arrive the same day.
On trial, the sleek packaging and long-lasting stems caught our attention, with bouquets lasting between 10 and 14 days.
Key specs
Our choice : Bouquet O'Hara Rose No.1
Price scale: £18 – £150
Mailbox options: Yes
Dried flowers: Yes
Flower subscriptions: Nope
Delivery options: Next day and same day delivery seven days a week.
This content is created and maintained by a third party, and uploaded to this page to help users provide their email addresses. You may be able to find more information about this and similar content on piano.io